Video: Manafort walks to the FBI field office
with his lawyer | Mueller's first charges: Manafort and his man Gates
The charges against two top officials from President Donald Trump's campaign signals a dramatic new phase of Mueller's wide-ranging investigation into possible collusion between the Russian government and members of Trump's team as well as potential obstruction of justice and financial crimes.
A White House spokesman told CNN the Trump administration "may not have a response at all" regarding the charges.
Manafort, whose work for former Ukrainian President Viktor Yanukovych has attracted scrutiny from federal investigators, has previously denied financial wrongdoing regarding his Ukraine-related payments, his bank accounts in offshore tax shelters and his various real-estate transactions over the years. Gates, who has also denied wrongdoing, was Manafort's longtime business associate in his lobbying firm before being tapped as his deputy on the Trump campaign.
They are the first two officials in Trump's orbit charged in connection with the special counsel investigation, which is exploring whether Trump's actions surrounding the firing of former FBI Director James Comey amount to obstruction of justice. Mueller has taken a broad approach to his mandate that includes a focus on the financial dealings of Trump's team.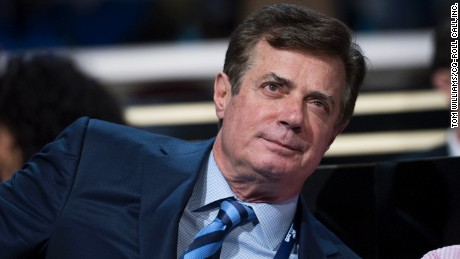 MUST WATCH
Before the indictment, the FBI in July executed a
so-called no-knock search warrant
 with guns drawn at Manafort's home in Alexandria, Virginia, seizing financial and tax documents, including some that had already been provided to congressional investigators.
This story is breaking and will be updated.
CNN's Joe Johns contributed to this report.
Read the whole story
· · ·
<a href="http://NYTimes.com" rel="nofollow">NYTimes.com</a> no longer supports Internet Explorer 9 or earlier. Please upgrade your browser. 
LEARN MORE »
can leave comments on <a href="http://NYTimes.com" rel="nofollow">NYTimes.com</a> without initial moderation. Verified status is earned based on a history of quality comments.
Signed in as mikenova
Share this story on NewsBlur
Shared stories are on their way…
New York Times
–
6 minutes ago
Paul Manafort, the former chairman of the Trump campaign, leaving his … WASHINGTON — Paul Manafort and his former business associate …
Read the whole story
· · ·
Workers behind Russian-linked Facebook accounts helped organize or finance real-life events, often working directly with U.S. activists and playing both sides of the same hot-button issues.
 WSJ.com: World News
Next Page of Stories
Loading…
Page 2